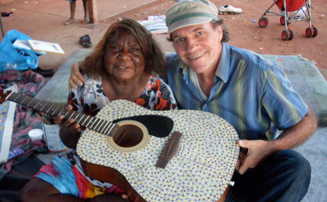 This beautiful guitar was first painted by Clarrie Nakamarra of Ti Tree Community in the NT. Clarrie has been involved in Music Outback progams for many years at Ti Tree, and she painted the guitar for MOF to use as a fundraiser to help keep the programs going. 
Its next stop was at the Byron Bluesfest, where it caught the attention and signatures of some legendary musicians including Paul Simon, Carlos Santana and Chris Isaak.
Finally, in partnership with the Mullumbimby Music Festival, the guitar was raffled over the course of the event to raise some much needed funds.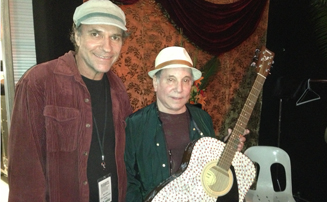 The lucky winner was Ben Winch from Mullumbimby, and with the enthusiastic support of the public at Mullum Music Fest the raffle raised $3600 for the Foundation.
Big thanks to Julie Lowe at Circle of One for initiating the project, to Clarrie for her wonderful artwork, to Bluesfest for letting us gather the signatures, and to Mullum Music Fest and our volunteers for support in running the raffle!