History of Music Outback
Origins
Music Outback Foundation had its beginnings in late 2001 when Founding Director Steve Berry took an opportunity to conduct a week long music workshop at M'bunghara, a small Indigenous community in remote Central Australia.
Steve's time there left him inspired to return to the Northern Territory and pursue the possibility of providing regular music education opportunities to remote Indigenous schools.   In September 2002 he visited four more schools conducting workshops at each location, and the success of these visits resulted in an invitation to expand the developing program to 12 remote schools in Central Australia.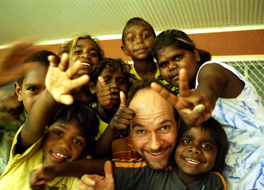 In order to meet this demand Steve began to introduce other musicians to the program.   He hand picked these new teachers from contacts made over many years in the music industry, and shared his teaching ideas with them as they were introduced to what would become their regular community postings.
Within four years the program had visited 30 remote communities, covering 6 language groups and an area over 350,000 square kilometres.   With consistency of delivery important, most of the schools on these communities incorporated the program into their regular curriculum every term.   Since those days over 40 musicians have been involved in its delivery, including internationally recognised musicians Mal Webb , Greg Sheehan, and Blue King Brown leaders Nat Pa'a Pa'a and Carlo Santone.
Incorporating as a non-profit Foundation
It was decided in 2005 that the best way forward for the program was to incorporate as a non-profit foundation, and seek endorsement as a tax-deductible gift recipient charity. With pro bono help from Blake, Dawson & Waldron, the necessary legal steps were taken and Music Outback Foundation Limited was incorporated in May 2006.  In October 2006 the organization was granted DGR status via a listing on the Register of Cultural Organisations.
To help kick things along, The Fred Hollows Foundation came on board as a partner, helping the new organisation get off the ground with an injection of seed funding and mentorship.   Soon after, Music Outback Foundation was publicly launched at the '06-07 Woodford Folk Festival.
MOBFEST!!!
Things really started to pick up when in 2007 the Federal Government called for funding submissions under DEEWR's Community Festivals For Education Engagement initiative.  Music Outback recognised the opportunity this funding could provide and put in a submission to fund an annual festival for all participating schools, an event where kids could share their achievements in songwriting and performance with each other, their communities and family members.
With the funding application successful, Mobfest Tanami at Ti Tree, NT soon became a flagship event on the calendar for participating communities and Music Outback alike.  Acting as a wonderful culminating activity for schools in the program, the festival has also been embraced with great pride by local community elders, who partner with Music Outback to deliver an extensive traditional culture program as a key component.
Expansion of Programs
Thanks to a developing partnership with DEEWR, Music Outback Foundation has now expanded into three states and territories, working in the NT north of Alice Springs, in the APY lands in the far north of South Australia, and in regional communitites in Western NSW.  There are regular intensive workshops each term at over 20 participating schools, an annual Mobfest event in each region, and all sorts of exciting ideas on the table for the future!
Music Outback Foundation continues to seek appropriate partners and sponsors as we build on our history and develop the depth and breadth of our work in remote Indigenous Australia.  If what we're doing inspires you, please contact us to see how you can help our work happen in the future.