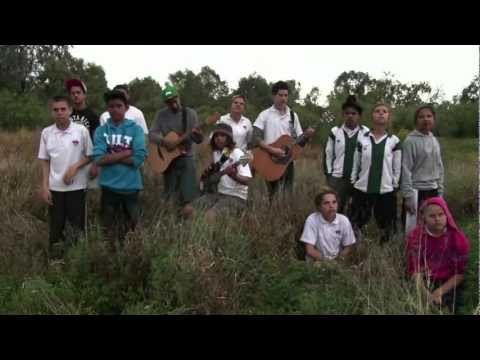 Produced during Music Outback Foundation workshop in August 2012 by Michael Turner & Shayne Johnson at Walgett High School with teachers; Tanya Coelho & Shelley Casey
Gamilaroi kids:
Claudia Murray
Tyson Teara-Jones
Suzie Marie West
Mark Winters
Tony Scott
Adrian Scott
Margaret Sullivan
Belinda Sullivan
Gary Abel
Savannah Duffy
Damien Sullivan
Manea Kauri
Tony & Manea wrote the verses for two close friends who recently passed. Belinda & Kayla wrote the chorus.
Damo & Tyson wrote the music.
We nearly didn't get to shoot this clip.
The rain poured down as we tried to film. We got soaked, equipment too.
We got back in the mini bus & nearly got bogged. Suddenly some blue sky & 2 rainbows appeared. We got back out & Shayne filmed it all in 5or 6 minutes with wet cameras.
Koori Angels were certainly with us.