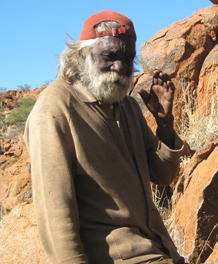 Tommy Kngwarray Thompson is a senior Kaytetye elder who lives in the small community of Tara, located within Neutral Junction Station in the Northern Territory, approximately 300 km north of Alice Springs.  As the senior elder, Tommy acts as the primary custodian of the Kaytetye culture, holding the Kaytetye stories and cultural knowledge, and he carries with that knowledge the responsibility for ensuring this culture is passed on to the next generation.  With the Kaytetye language extremely threatened, and fewer then 250 people using it as their primary language in the home, Tommy's role as a cultural custodian is critical, so he therefore openly engages with any opportunities to further his aims of maintaining and protecting Kaytetye language and culture.
One such opportunity Tommy has embraced has developed through working together with Music Outback at Neutral Junction school, work which first began in 2005.  Tommy uses his wealth of cultural knowledge to help Music Outback create Kaytetye language songs that the children learn and perform as part of the Music Outback program.  These songs also contain important cultural stories that Tommy wishes the kids to learn and engage with, so that the stories remain an active part of Kaytetye culture.
Tommy's experience as a participant in the program usually takes the form of leading school excursions to special places on Kaytetye country, often within 20 or 30km of the school.  During these excursions, which are also attended by other community adults, the Music Outback Facilitator, a linguist and school teachers, Tommy tells stories to the children in the Kaytetye language.  He chooses which stories to tell, drawing from important traditional repertoire he believes the children should learn.  The children listen to Tommy's stories with interest, and the MOF facilitator and linguist record the story on video.  Returning to the school, this material is transcribed and then written into a children's song, with the linguist, Music Outback facilitator and community members working together in the song-writing process.  Tommy also comes into the classroom and takes part, making further explanations and listening to the children singing the songs once they have been written and learned.  Tommy's support and enjoyment of Music Outback's Kaytetye language and culture work is clear.  He believes it is a wonderful way for his cultural heritage responsibilities to be incorporated into the school curriculum, and he is committed to continuing this engagement whenever possible.